Community Hope is awarded $45,000 grant from The F. M. Kirby Foundation
Community Hope is awarded $45,000 grant from The F. M. Kirby Foundation in support of its mission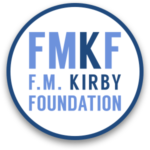 The F. M. Kirby Foundation has awarded a $45,000 grant to Community Hope to support its mission of helping individuals, including veterans, and their families, overcome mental illness, addiction, homelessness and poverty by providing housing and support services.
"The individuals, veterans and veteran families we serve throughout New Jersey are recovering from mental illness and substance abuse, and many are homeless needing a safe place to live and services that aid in self-sufficiency," said Carmine V. Deo, Executive Director of Community Hope. "The F. M. Kirby Foundation has supported Community Hope's mission for nearly 20 years by providing grants to ensure that those we serve have stable and affordable housing and the services they need to overcome the root causes of homelessness and move on towards self-sufficiency and productive living."
This year alone, Community Hope estimates that through their programs and services more than 1,000 veterans and family members will be saved from living on streets and overcrowded shelters. In addition, each day 150 individuals reside in Community Hope supported housing in their mental health residential recovery programs.
About the F. M. Kirby Foundation:
The F. M. Kirby Foundation is headquartered in Morristown, New Jersey. Endowed in 1931 by Fred Morgan Kirby, one of the founders of the F.W. Woolworth Company, it was designed to continue in perpetuity through generations of the family. Since its inception, the Foundation has awarded over $700 million in grants. Five Kirby family members, currently spanning two generations, serve on the Board, as well as two non-family directors.