Compliance & Transparency
A Culture of Integrity, Ethics & Respect
Adhering to Corporate Compliance and Code of Conduct
Community Hope, Inc. is dedicated to excellence and has a commitment to lifelong support needed by homeless veterans & their families and individuals with serious mental illnesses and their families to ensure that they achieve their full potential to improve the quality of their lives.
Our dedication and commitment extends to our desire to comply with the increasingly complex laws and regulations that govern the healthcare industry. This dedication begins at the level of the Board of Directors and extends throughout the entire Agency. To this end, Community Hope has developed a Corporate Compliance Program with policies, procedures and staffing designed to ensure that the Agency prevents and detects violations of the law in our practice of doing business.
Included in our Corporate Compliance Program is our "Code of Conduct & Ethics", which provides guidance, assistance and expectations in carrying out our daily activities within appropriate ethical and legal standards. It is the responsibility of each and every Community Hope employee, volunteer and intern to comply with these guidelines. We also expect our affiliated physicians, therapists, subcontractors, independent contractors, vendors, consultants and any entity doing business with this Agency to comply with our Corporate Compliance Policy and Procedures, as well as the principles set forth in our Code of Conduct & Ethics. This expectation is incorporated into our Business Associate Agreements with each independent contractor.
To report any suspected misconduct or compliance violations, Community Hope maintains a Corporate Compliance Help Line at 973-463-9600 x374.
Click here to view our Employee Code of Conduct & Ethics
Click here to view our Board Member Code of Conduct & Ethics
---
Building Trust through Transparency
Our employees repeatedly report that organizational transparency is one of the factors that determines their workplace happiness. Transparency fosters trust, and trust is important for the health of every workplace relationship. We believe that sharing our vision for the future helps everybody feel like a more vital part of the team, with a deeper connection to the work. Transparency requires openness about the culture at Community Hope, the day-to-day happenings of team members, salary expectations, our values and priorities, and even our financial outlook.
We have designed a flatter hierarchy in our leadership structure, our decision making processes, and in our information sharing. This approach has made consensus-building easier and employee engagement stronger. It has increased our employee's confidence in compliance reporting.
As part of our commitment to employee engagement, social responsibility, and fiscal health we are proud to share our public 990s and financial position.
Click here to view our 2020 Tax Form 990
Click here to view our 2020 Combined Statement of Financial Position
Click here to view our 2019 Tax Form 990
Click here to view our 2019 Combined Statement of Financial Position
Click here to view our 2018 Tax Form 990
Click here to view our 2018 Combined Statement of Financial Position
---
Accreditations and Awards
CARF Accreditation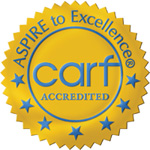 The case management and community housing services provided within our Transitional Housing, Supportive Living, and Hope for Veterans® programs are accredited by CARF, the Commission on Accreditation of Rehabilitation Facilities. Our three-year CARF accreditation represents the highest level of accreditation that can be awarded to an organization and shows Community Hope's substantial conformance to CARF standards for programs and services of the highest quality.
Licensed By
Community Hope's Transitional Housing and Supportive Living Programs are licensed by the New Jersey Department of Human Services Office of Licensing. Our Hope for Veterans® Program is licensed by the New Jersey Department of Community Affairs.